Waiting for Strategic Partner
Adhere to the principle of win-win cooperation, we focus on the business of market, but not business of order. Always seek for partners with strategic vision and invest together.
SINO Exclusive Distributor
Korea

Vietnam

SINO KOREA ., LTD.

3DONG 101 HO, 81-44 SEOHAEAN-RO,SIHEUNG-SI, GYEONGGI-DO

PHONE: +82 31-8041-9550
Egypt

INFINITY EGYPT FOR INDUSTRIAL SUPPLIES

NO. 270TH ELJASMINE THREE,1ST, SETTLEMENT,NEW CAIRO,EGYPT. POSTAL CODE: 11865.

PHONE:+201101112082
Brasil

ALLTECH MAQUINAS E EQUIPAMENTOS LTDA

RUA DONA FRANCISCA - 8300 - BLOCO 8 – MODULO 6 - GALPAO 1 - ZONA INDUSTRIAL NORTE - CEP: 89.219-600 JOINVILLE / SC BRASIL

PHONE:+ 55 (47) 3029-8300
South Africa

LEAD MACHINE TOOLS (PTY) LTD.

25 MAIL STREET, WESTERN PROVINCE PARK, EPPING, CAPE TOWN 7460, SA

PHONE:+27 21 534 5351
Chile

ITALMACC CHILE S.p.A

AV.SALVADOR ALLENDE Nº4900 CERRILLOS-SANTIAGO - CHILE

PHONE:+562 25574886
Poland

"JANUS SP. Z O.O." I S-KA -SP.K

UL. GRZYBOWA 1, 41-200 SOSNOWIEC POLAND

PHONE:+48 32 2664051 w.18
New Zealand

TOTAL CNC PRODUCTS LTD.

PO Box 58 522, Botany, Manukau 2163,Auckland

PHONE: +64 9 274 5890
Argentina

MORATEC ARGENTINA PRODUCTS LTD.

Address:Av. Santa Fe 2647 7º C

City:Ciudad Autónoma de Buenos Aires

Country:República Argentina

Phone:++ 54 11 4524 6440

web site:www.moratec.com.ar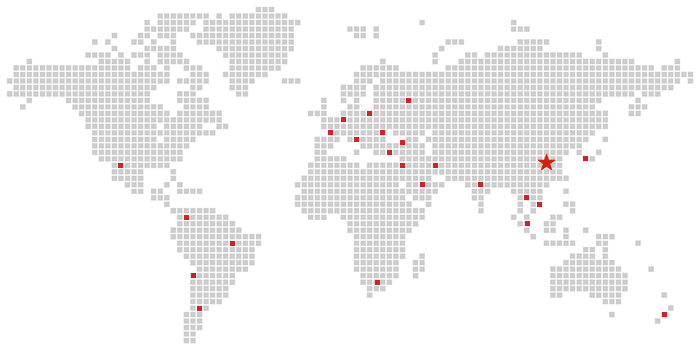 Europe
Spain

Italy

Netherland

Turkey

Russia

Romania
North America
Mexico

Colombia
South America
Argentina
Get Insider Information About Exclusive Offers, Events And More!