An Old Machine in Sino's Workshop
An Old Machine in Sino's Workshop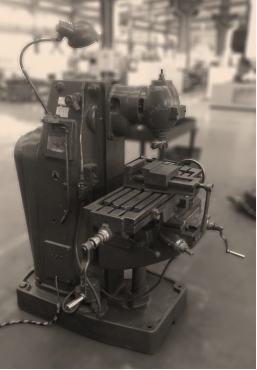 There is an old milling machine in Sino's workshop. Few people pay attention to it. It has stayed quietly in the corner for a long time, even though it can still work sometimes. I found the nameplate, mottled, on the left side, showing us that model no 57-3A, made in 1969. Wow! It is much older than me.
When I came to the front of the machine, it kept still and silent, just like an old man who had a lot of stories but not in a hurry to tell others. I touched its body, felt cold and hard. What do you have? I asked in my mind. I tried to find something more about it but nothing.
Maybe its birth certificate, the nameplate, can give me a clue. Shanghai No.7 Machine Tool Factory, is the builder's name. That was an old name of Sino Machinery, which was used over 60 years ago. In 1956, the predecessor of Sino Machinery launched the designing of its first milling machine model No. 57-3. Only 1 year later, the first milling machine was successfully built in 1957. 57-3 was well accepted by the market and was sold a lot. Then the company's name was formally changed to Shanghai No. 7 Machine Tool Factory in 1958.
In the 1960s, China was under great pressure from international tension. Many industry factories moved to inland areas from coastal areas. Sino Machinery moved from Shanghai to Huangshan, which is over 400 km away. According to the users' demand, upgraded models of 57-3A/B/C were developed subsequently. The one I saw in the workshop, made in Huangshan in 1969, was just one of them.
In the past 60 years, China has undergone tremendous changes in social and economic areas. Natural disaster, 3-line construction, reform and opening up, entering WTO…
No matter what happened in the outside world, Sino always kept its focus on metal milling and cutting since the first 57-3 was born. Today, model 57-3 has discontinued for many years. Conventional manual knee-type milling machine output only takes a small percentage of the total production of Sino. Sino's main business now has shifted to CNC machine tools like machining centers. Sino commits to providing customers with one-stop milling solutions. It is estimated that over 4000 machines, including vertical machining centers, horizontal machining centers, double-column machining centers, and conventional milling machines will be delivered to customers all over the world in 2021.
Although the machine keeps being upgraded constantly, Sino's people always insist on the spirit of making high-quality and reliable machine tools.