SINO V-8D&V-10D- Wise choice for built-in spindle vertical machining center
SINO V-8D&V-10D- Wise choice for built-in spindle vertical machining center
Last December, We Sino launched a new series of vertical machining center, that was built-in spindle vertical machining center. Two typical models were V-8D and V-10D. Here, a general introduction will be made about them.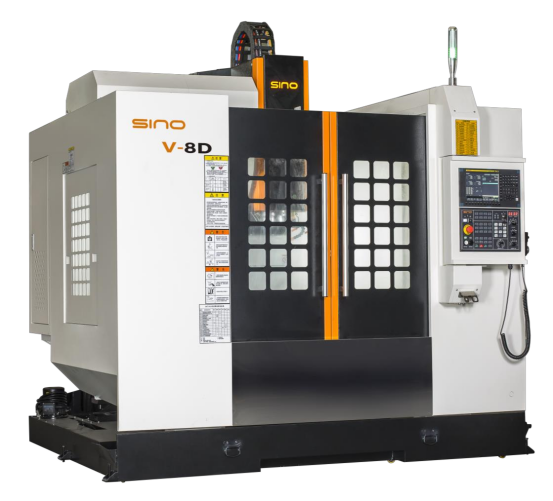 Obviously, the key characteristic of built in spindle is its high speed. In 1930s, German physicist Carl.J Salomon made his new theory on high speed cutting, which core was that " As long as the cutting speed is high enough, the problem of tool wear due to high temperature can be solved, and can get good machining efficiency". In detail, high speed cutting can be characterized with 4 points, that is
1. Higher cutting speed,reasonable feeding speed
2. Small radial cutting width and axial cutting depth
3. The surface temperature of the workpiece is low, as heat is taken away by the cutting chips, which secure a good surface quality and processing efficiency
4. Tool wear will not be increased within allowable range of tool linear speed .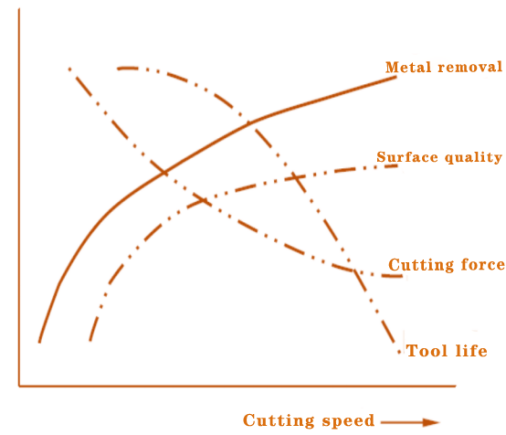 So production efficiency and machining quality can be more easily realized by built in spindle vertical machining center.
Part one: Features of Sino built-in VMCs.
Then come to Sino built in spindle VMCs as V-8D and V-10D, they can also be featured in below 4 parts.
1. Lightened moving parts, the built in spindle is only about 1/3 of the total weight of mechanical spindle unit, so the Z axis direction load is reduced by 2/3.
2. Low inertia, Fast acceleration and deceleration. Here is a group of data.
In 5000 rpm/min : Built-in spindle efficiency improved by 51%
In 10000 rpm/min : Built-in spindle efficiency improved by 79%
In 15000 rpm/min : Built-in spindle efficiency improved by 89%.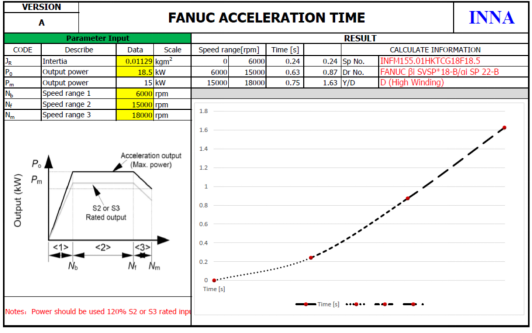 Very clear, you can see the processing efficiency is highly improved.
3. High power, high speed.
In comparison with mechanical spindle, Rated power of built-in spindle is around 10 times of mechanical spindle (10.7NM and 1.19NM respectively), which shows its higher cutting ability.
What's more, built-in spindle can work at 12000rpm for long time with low vibration and less thermal stretch , which means better surface precision and quality.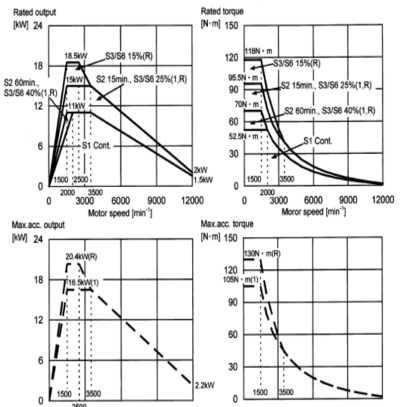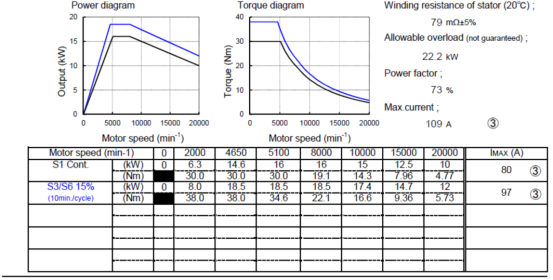 V-8D with built-in spindle
Summing up, with one set up, and its excellent performance with power and speed, built-in spindle can achieve better processing effect in much shorter time.
4. Low vibration, High precision.
Compared with traditional mechanical spindle, the vibration of built-in electric spindle is only of half level.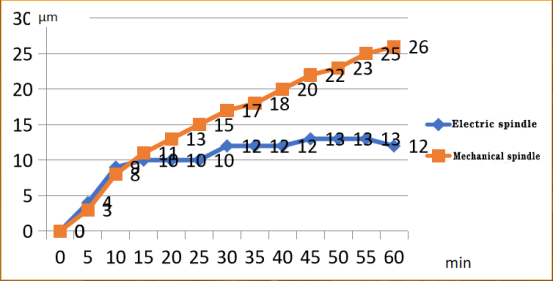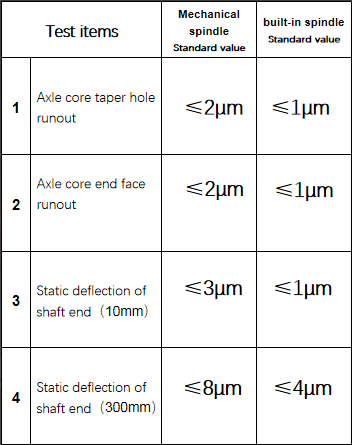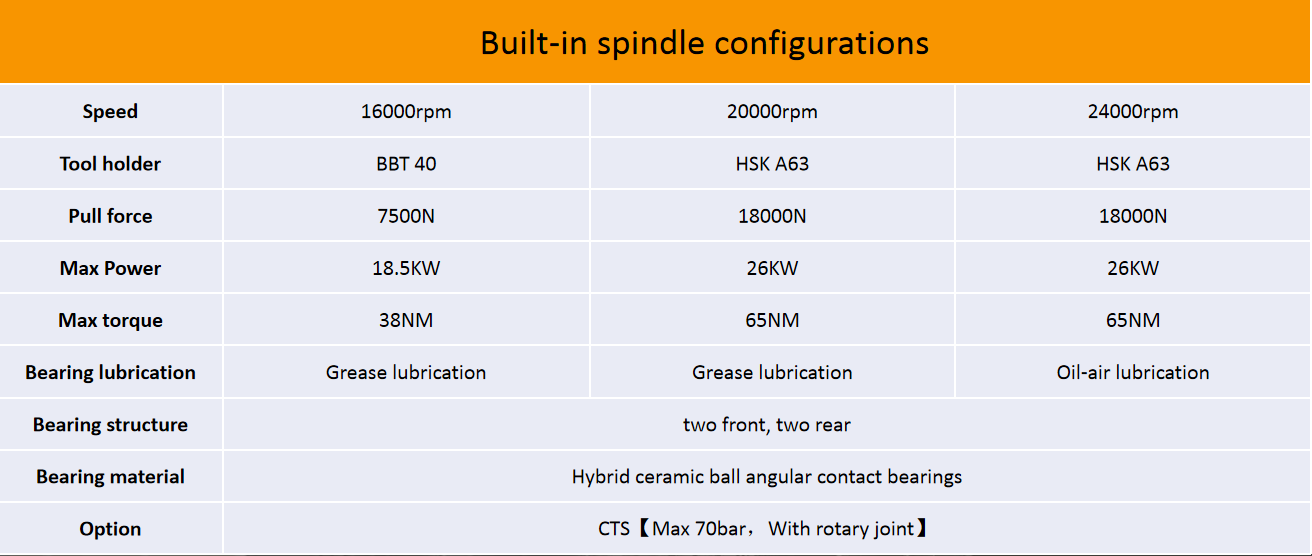 Part two: Application and cutting test of Sino built -in spindle VMCs.
Sino built-in spindle VMCs can be widely applied in five industries, such as cast aluminum, forged aluminum, Aviation aluminum, Precision parts and mold and Thin-walled, brittle and hard materials.
Here is the configuration of our built-in spindle VMCs.
From above table, there is also one highlight, that is for speed 16000rpm, it is BBT type tool holder, compatible with BT tool holders. So this model will be a very good choice of cost saving for end users who has profound experiences in working with BT type VMCs.
Lots of testing had been done on these built- in spindle models before their officially launch, such as rough milling, small diameter drilling, precision milling ,thin wall milling, small hole 0.1mm tapping and so on. Next, we will show you a cutting test we did of thin wall cutting. The workpiece is a traditional eight diagrams( Bagua) .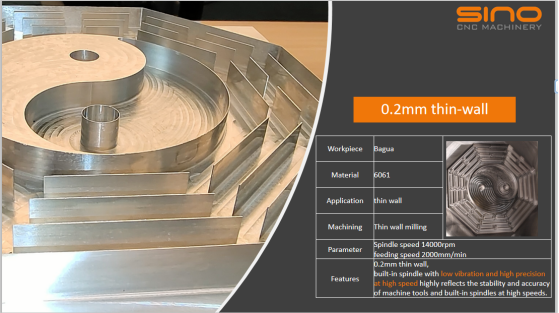 From above the thorough introduction about our built in spindle VMCs., we can conclude that Sino built-in spindle VMCs are ideal choices for processing job which requires high speed and high efficiency.